Timberframe & log homes with original features Working with log and timberframe structures, we create modern spacing with an ancestral feel.
Rosenthal Residence, Fourmile Canyon, Boulder, CO
This exquisitely crafted Scandinavian cove log frame from Canada sits on an "Ice Block" foundation which has been veneered with Arizona granite. We adjusted the house on the site to save as many trees as possible. The leach field was placed right below the house to create a nice flat area which is now the front lawn. We encouraged the Owner to incorporate four large thermopile windows in the south wal of his garage. Along with the R-30 "Ice Block" foundation walls, the garage never freezes, which makes for a car that always starts. Hydronic heat in the basement slab makes for a cozy family room.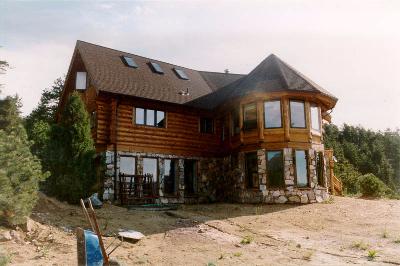 Rosenthal Residence, inside view.
The "pinto peel" on these doug fir trees gives it a woodsy flavor. The five sided bay has magnificent views. This style of house, with its many posts presents some unique problems with settling, since the logs shrink in diameter, typically about 5%. Hence all the posts in the assembly have to sit on screw jacks and must be let down periodically. Also all doors and windows have to have settling details i.e. a gap above them to allow the wall to settle down over them. We let this house down four times over a 2 year period. It shrank 1 1/2 inches over that period of time.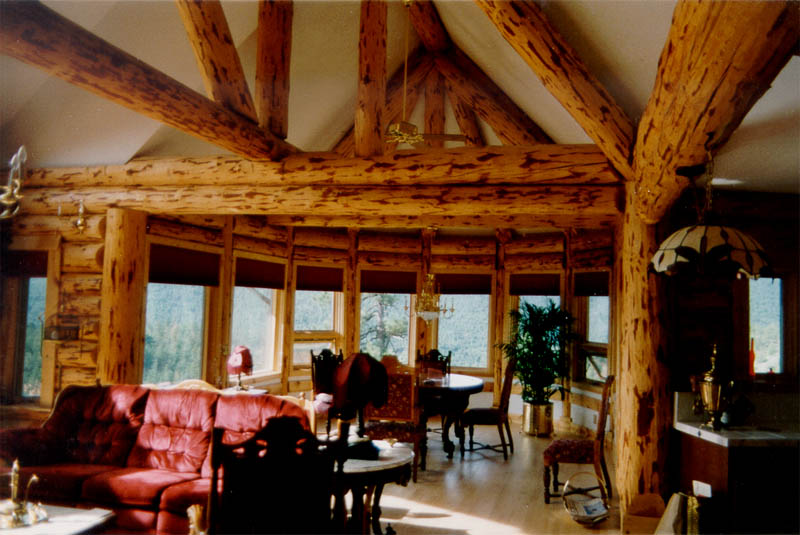 Timberframe Structures
Are the most recent thrust of our company. Our longtime framer and friend Tom Kelly got tired of doing conventionnal stick framed houses and has been specializing in the old art of Timberframing. The frame consists of stout posts and beams which are mortised and tenoned together and then pegged. Structures over eight hundred years old still stand in England in well preserved condition. The frame is then covered with a "skin" typically stressskin panels which are sheets of styrofoam wafered with ply wood on the outside, for roofing and sheathing, and with drywall on the inside. Such structures typically cost about $50 per square foot more than a stick framed structure. As Tom puts it," it's for someone who has the money, appreciates fine woodwork, and plans on keeping the house in the family for a long time."
Buckner Residence – Nederland, CO
Under construction. A timberframe house with earthship/tire foundation and (future) attached greenhouse.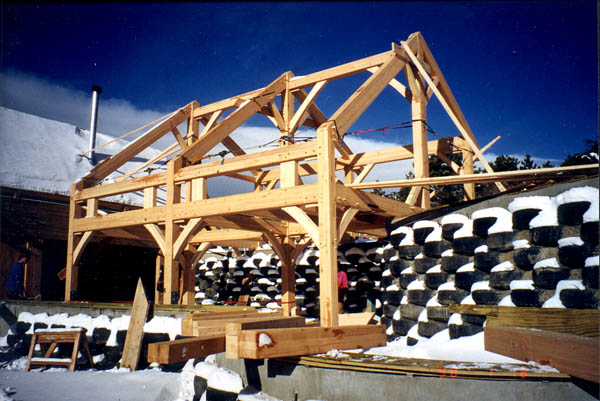 Buckner residence (under construction)
Timberframe work done by Tom Kelly, our longtime lead framer. Notice the tight joinery and the as yet uncut pegs. The clamps and the 2×8 cross brace are temporary supports.
Gary Pittman outfitters camp
On Tetachuck Lake, B.C., Jeff had the opportunity to work on this outfitters scandinavian log cove cabin in 1988. Assembled entirely from local native trees by Canadian sawyers, all other materials had to be brought in by boat or float plane as the nearest road was 50 miles away.
The experience with this house would benefit us greatly when it came time to build.
Sacred Spaces
Attunement with a higher power is important to us.
These photos are of an Anasazi style Kiva inspired by a Native American visionary Joseph Rael.
His desire is to foster world peace through the use of sound , dancing, and meditation.. The roof is a cribbed log structure and is shown above in its early construction.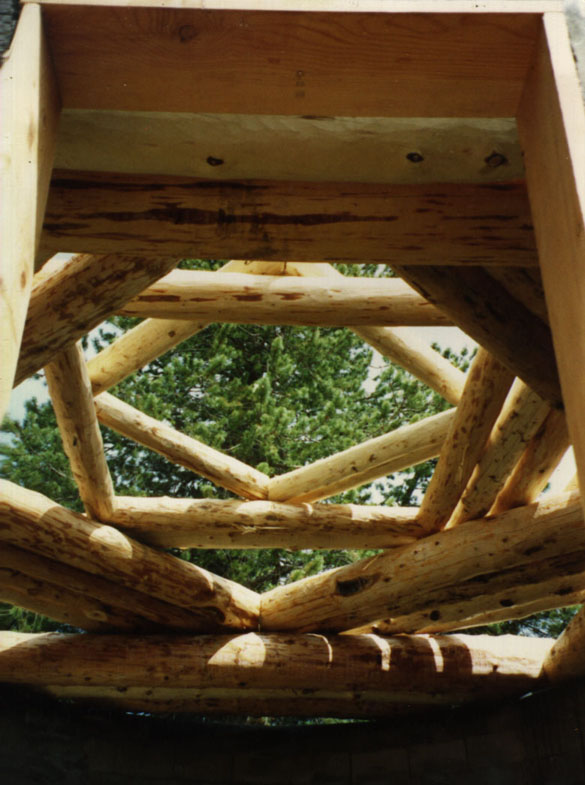 In the photo above and below, one can see the completed log roof before it was covered with concrete and dirt.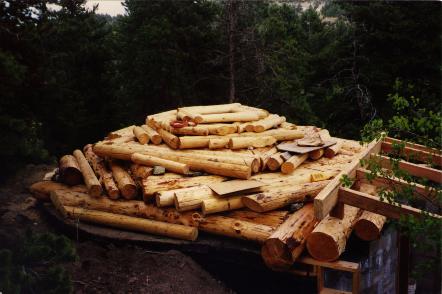 Below, the finished Kiva with its solar entryway.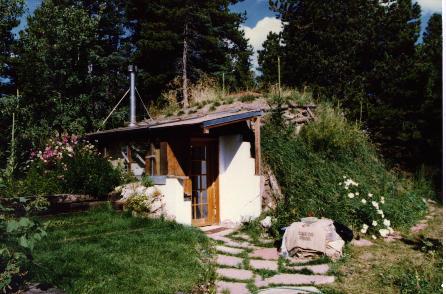 The log ceiling as it appears from the inside. There are some 35 such structures around the world and we have worked on several of them.